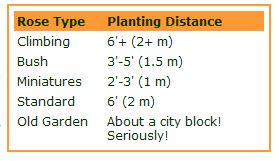 Preparing Ground to Plant Bare Root Roses
Dig that hole!
Plant your roses ASAP! Prior to planting, we suggest you soak the roses for 24 hours, tops and all, in water. This helps hydrate the plant and will help it get a good start in its new home. Select a location in your garden that gets a minimum of six hours of direct sun, preferably afternoon sun...global warming is good!
So, dig that hole about 2' deep and 2' wide, build a cone in the bottom of the hole to spread the roots over. If you are replacing an established rose in your garden with a new bush, remove all the soil and roots completely. Then refill the hole with a good planting mix and some of your own garden soil. Water the new planting thoroughly and top it off with a good mulch.
Rose Type - Planting Distance
Climbing - 6'+ (2+ m)
Bush - 3'-5' (1.5 m)
Miniatures - 2'-3' (1 m)
Standard - 6' (2 m)
Old Garden - About a city block! Seriously!
Roses need room to breath. Avoid crowding them together. Use the table above as a guide.
Give 'em a Nice Bed
Amend the soil:
a mixture of 50% composted manure (cluck cluck! or mooooo!) and 50% native soil, or planting mix, or garden compost, will all work great...50% native soil and 50% good stuff! Roses grow best in soil with a ph of 6.0 to 6.5 (or slightly acid). Now out West, we don't have too many problems with acidic soils, but from parts of the Midwest to the East Coast this is a problem. So check with your local down and dirty!