Farm Fresh Christmas Trees!!
November 22 - December 25, 2009, Fremont, California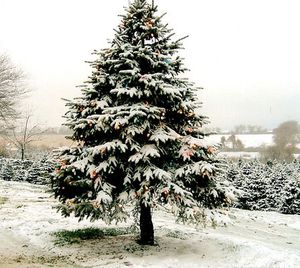 Starting on Sunday, November 22nd, Regan Nursery's fantastic selection of premium Christmas Trees will be in stock and ready to go! Regan Bros. Farms always has the best trees, and this year is no exception.
We're excited to welcome our Christmas Tree customers back to Regan Nursery this year to select their favorite Noble Fir, Doug Fir, Flocked or not. Bring the family for a fun outing, and hunt for just that perfect tree. They will be in available on Sunday, November 22nd, and looking as beautiful as always. Our happy elves will help you to select, trim, and pack your tree for the trip home. While you are here, we have a great selection of fresh garland and wreaths, and we can custom build a wreath for you as well.

Of course, we will have poinsettias, gift certificates, and a hardy warm welcome from our eager staff of elves. See you soon!