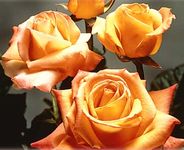 Grandiflora Roses
Grandiflora roses are another of our customer's favorite types of roses. Tall elegant plants that bloom repeatedly during the season, they generally feature clustered blossoms with stems which are slightly shorter than those of hybrid tea roses. Grandiflora roses are hardy in zones 4-9.
No Matches
We're sorry, but there are currently no plants in our system with Common Name beginning with I .
You may want to try again and reduce the number of characteristics you selected.